Hiroyuki Kikuchi
Art director, Graphic designer e Fotografo.
A Tokyo ha curato importanti progetti e campagne in vari settori tra i quali: fashion, automobilistico,
elettronica, bancario, food, gioielli, cosmesi.
Dal 2003 vive a Milano dove lavora principalmente nel settore moda.
Su alcuni progetti interviene anche come fotografo.
Art director, Graphic designer & Photographer.
In Tokyo, Hiro developed projects for various industries as disparate as automobile, electronics, insurances, food, fashion, jewellery and cosmetics. Since 2003 he lives and works in Milan as a freelance entrepreneur, specializing primarily in fashion.
On special projects, he also works as a photographer.
Vania Consuelo Pedol
Interprete di italiano e giapponese, ha vissuto per un lungo periodo in Giappone, maturando importanti esperienze nella comunicazione tra aziende in italiano e giapponese.
Per la Hars Direction cura i rapporti con i clienti e con i fornitori italiani e stranieri, assiste Hiro nell'organizzazione e nel coordinamento delle campagne di comunicazione e
si occupa della parte amministrativa.
Come interprete supporta aziende giapponesi in Italia sia per quanto riguarda le trattative commerciali, sia nell'organizzazione logistica di viaggi d'affari.
Vania handles Hars Direction's relations with customers and suppliers. She handles the administration of the business as well as all communication campaigns for projects.
As an Italian-Japanese interpreter, she supports Hiro in his work and maintains a close relationship with Hars Directions's contacts and clients in Italy and abroad.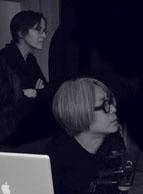 Art Direction
Tra i punti di forza di Hiro vi è la capacità di concretizzare le idee nel rispetto del budget assegnato, mantenendo alta
la qualità del design e dei materiali. Una buona art direction si distingue infatti nel saper ottenere il massimo anche
col minimo a disposizione: la qualità delle idee non ha mai avuto un budget.
In fase di presentazione sottopone al cliente alcune proposte creative esemplificate da layout e da mock-up
in modo da rendere migliore e immediata la comprensione dell'insieme.
Hiro's strength as an Art director is realizing ideas within a given budget while maintaining a high quality of design and materials. Excellent art direction means accomplishing the best results even with a very limited budget, since the quality of ideas itself is not restricted by costs. During the work presentation, some creative approaches are submitted to the Customer and exemplified by layouts and mock-ups in order to provide a detailed visual representation of what will be delivered.
Graphic Design
Appassionato di arte nelle sue varie espressioni, dalla letteratura alla musica alla pittura, Hiro è da sempre affascinato dalla potenza del graphic design, dalla forza impattante con la quale riesce a comunicare istantaneamente emozioni, messaggi e mondi. La ricerca della grafica perfetta lo appassiona e l'attenzione al dettaglio è parte del suo essere.
Hiro loves art in its various expressions, from literature to music to painting. Among the visual arts he is fascinated by the power of graphic design, where emotions, messages and worlds are instantly and strongly communicated.
He researches THE perfect graphic, employing his natural attention to detail to deliver the most perfectly fitting image for the project at hand.
Cura del progetto dal concetto alla consegna.
Care of the project from the concept to the delivery.
Hiro ha sviluppato una tecnica personale che unisce ad un abile utilizzo di computer grafica l'uso dell'acquerello che dona alle sue illustrazioni un tocco speciale, impossibile da ottenere con applicazioni come Illustrator e Photoshop.
His works are a mix of computer graphic and watercolour. He believes that the application of watercolours provides
a special touch that is impossible to achieve with computer applications such as Illustrator and Photoshop.